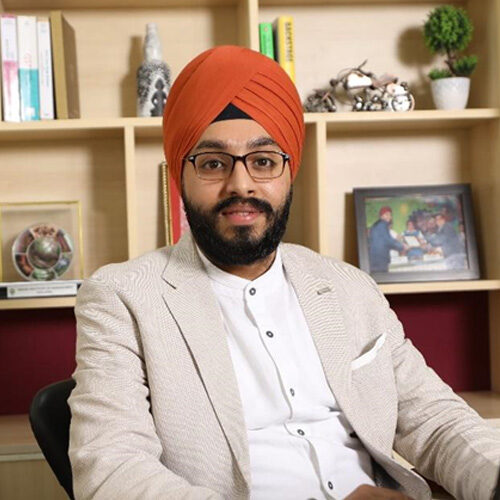 Vandeep Singh Ratra
CFO and Head of Strategy, Business Excellence, GBKC Global Pvt Ltd
Q1. What drew you to a career in finance?
I come from a typical business class family where working is just about joining the family business. But from a young age, I had the clarity that my path was different. To be honest, I never had the foresight to join any specific field as a young student. It was my uncle who encouraged me to pursue the Chartered Accountancy course.
Later, as part of the CA curriculum, I got the opportunity to join one of the MNCs as an Industrial Trainee where I worked in multiple facets of a Finance Function. It was during this period that I learned how Finance Function generates value for organizations. By the end of my training period, I had the wisdom to embark on a career in finance as a Finance Business Partner.
Q2. What is your best quality that helps you professionally?
I always believe in empathizing with any given situation or circumstance before forming an opinion about it. This has helped me to become an accomplished professional.
Q3. What has been your biggest professional challenge?
After the first pandemic-induced nationwide lockdown, most of the customers enforced Force Majeure. As a result, all the orders in hand were put on hold and the payments were stuck.
We were not in a position to pay salaries to our workforce and it was a survival issue for the organization. I had to think out of the box and find a solution to keep our operations up and running so that we could pay our workers and employees regularly. Soon we decided to produce healthcare apparel for frontline workers, but we faced numerous challenges as we progressed.
First and foremost was to enter and understand a completely new business vertical that was highly regulated and then to gain an in-depth knowledge of the product. The process that ensued was to get the certifications and mandatory compliances done in a short time; import required machines for production amidst lockdown; arrange finances; obtain necessary permissions from the state government to operate; work with limited bandwidth; obtain permissions from customs and Ministry for exporting the products; so on and so forth.
Apart from managing the overall project, I had to take up additional responsibilities of product development, business development, and compliance without having any prior experience in these areas.
But we handled the situation with resilience and maintained a positive work environment amidst all the negativities. We also counselled our employees regularly and kept them motivated. All these things helped me to survive one of the toughest phases of my professional life and we ended up with a great success story.
Q4. Your view of technology and its role in companies of the future.
Technology is guaranteed to stay and will continue to evolve as we move ahead. It is impossible to ignore its impact on businesses.
Advancements in automation, machine learning, AI, cloud database, etc. have not only disrupted the business environment but have also made organizations more effective, leaner, and more efficient. This has resulted in a multitude of opportunities for the workforce to upskill themselves and contribute towards creating value for the organizations in various ways.
If we talk of Finance, for instance, I think automation of repetitive tasks; real-time recording of transactions; integration with outside technology for real-time compliances; etc. have enabled the organizations to move towards more predictive and real-time analysis, thus resulting in better decision-making and cost-saving.
Q5. How do you keep yourself updated about the current financial trends?
I have a large network of people with diversified backgrounds. I often talk to them to learn new things that are happening around various ecosystems. I also keep myself abreast of the current trends by reading posts on LinkedIn, news websites, and influential blogs available on various social media platforms.
Q6. One thing you wish was different about your job
A huge effort goes into managing the working capital of the organization due to our nature of operations. I wish our cash inflows were smooth and easy so that we could invest more time in doing value-added work.
Q7. Please share one learning experience from your professional or personal life
There is nothing that cannot be achieved in this world. It is important for a person to have a strong conviction and clarity on what he or she wants in life (if it is realistic and rational) both personally and professionally.
Besides, there is no shortcut to success. You must be patient with your career; always open to adapting to change and to learning new things; focus on doing the right things; deliver results; and most importantly, believe in yourself.
Be thankful for what destiny has bestowed on you. Always remember that your destiny is not created by the shoes you wear but by the steps you take in life.
Q8. What is your mentoring style?
Whatever I have achieved in life today is because of the guidance I have received from my mentors. During my time in consulting, my mentors pushed me beyond boundaries to deliver results, even when I had no prior knowledge of the subject matter. They gave us enough space to learn, make mistakes, correct them, and perform. They made us challenge the status quo and taught us to be open to new opportunities.
This has helped me to look at the problems differently and find solutions. I follow the same mentoring style and ensure that the growth of my team goes beyond the pay scale.
Q9. How would you describe yourself in one sentence?
A finance business partner who believes in doing the right things and delivering results.
Q10. Which personal habits have contributed most to your professional growth?
I accept challenges and solve them for good. This has helped me to focus on additional responsibilities at work apart from usual business, thus enabling me to gain a diverse experience.
Also, I love knowing new people and learning about the new things that they do. This has helped me to build a strong relationship with my business stakeholders.
Q11. What's your passion/hobby outside work?
I love listening to classical music and playing melodeon (Harmonium). Also, travel makes me feel excited and alive.
Q12. If not a CFO, what would you have been?
If not a CFO, I would have been a management consultant.